Our First Investment: biNu – A platform to reach more Africans on basic mobile devices
I am happy to announce Savannah Fund's first seed investment– biNu mobile- we participated in this round along with Eric Schmidt of Tomorrow Ventures and a number of other Angels investors. The story of how Savannah Fund became involved in biNu started early this year when I was in the middle of fundraising for the fund. I had established regular meetings with my Stanford business school classmate, good friend and informal advisor and mentor Tristen Langley, an experienced VC with an interest in emerging markets. Tristen had worked on the Skype deal at Draper Fisher Juverston, a deal that came out of Estonia. She had also encouraged me during my time at business school 7 years ago that one day I could be a VC in Africa and about the same time Paul Bragiel had also convinced me to seriously look at Africa to participate in tech. One such meeting with Tristen in Oakland, CA she asked me an obvious question: "How many people in Africa currently use smartphones and 3G internet?"– my answer was along the lines of "Not many now, but it is growing rapidly, android is really taking off led by Samsung, Huwaei."
"You should take a look at this company called biNu from Australia", replied Tristen.
Then I remembered during my routine trips to East Africa another issue- once you leave urban areas, 3G mobile signal often drops dramatically and in many parts of Africa 2G is still the norm. Mobile operators have not invested in universal high speed internet coverage especially in rural areas. With the latest Android or iPhone you might be able to send some e-mails over a 2G network and some very slow web browsing, but access to rich services such as social media were severely limited or painfully slow- an unacceptable user experience.
On my way back to San Francisco from Oakland on the BART train I researched the company and it became clear that not only does biNu work on feature phones, it is also a window into the smartphone world of rich apps over low speed networks. I quickly wrote a blog post on Afrinnovator that explains why I think biNu is significant and sent the link to Tristen- within a day, she connected me to Gour Lentell, founder of biNu and over the next few months during their fundraising trips to Silicon Valley I met the team often to learn about their company and their strategy. Erik Hersman had also met Gour on the continent in South Africa and again at Pivot East in Nairobi.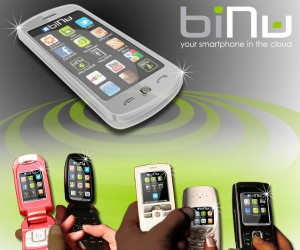 Once in a while, a platform comes along that is highly relevant to Africa. Opera is the browser of choice of many Africans. Prior to being acquired by Facebook, Snaptu was a key app many used to connect to Facebook on feature phones. I believe biNu is that next generation platform for Africans to connect to social media and rich apps in the absence of higher priced smartphones and the high speed mobile Internet networks. As is featured on the Nextweb Article, Africa is one of the fastest growing user base for biNu with over 1 million active monthly users.
This is exciting for local app developers too who want to reach more Africans or feature phone users as they can bypass the mobile operators and appstores. Every local African mobile or online content entrepreneur will likely run up against the distribution problem on how to reach their African audience online with rich apps on features phones. Take the biNu partnership with Worldreader, ebooks can be delivered to low end phones with added benefit of Google translate should a swahili reader in Tanzania want to translate an English book into native language page by page at fast speeds. I am actually a regular user of biNu on my low end Android phone, when I am not in urban areas, such as in upcountry Tanzania, I use it connect to Facebook and Twitter.
For brands, biNu provides an interactive channel to reach African consumers- like their survey App which rewards consumers with biNu credits that can be redeemed for premium biNu services like free SMS. Given the lack of data about emerging African consumers- biNu provides a channel for brands to listen and ultimately serve this increasingly lucrative segment of consumers in Africa.
We look forward to helping biNU scale even more across Africa and to connect users currently on feature or low end smartphones to rich apps and services. In addition, we also look forward to working with local African app developers who are interested in reaching this unique and growing user base.
biNu founder Gour Lentel is Zimbabwean born (apparently the Steve Jobs of Zimbabwe!) now living in Australia with the rest of his Team. Savannah Fund believes that innovations addressing Africa and indeed the world can start from anywhere and we will leverage our global networks from Silicon Valley, Australia to Kenya to find the very best innovations shaping Africa technology.