Announcing the 2nd accelerator class and Afrikoin in November
We are excited to announce our next cohort of startups for the Savannah Fund accelerator.  4 startups began working from the mLab office space within the ihub this week. The startup founders hail from 4 countries inc. Kenya, Uganda and Ghana and Nigeria.
Cardplanet solution (Kenya) : Payment solutions where mobile money meets cards initially targeting students and schools.
Inforex (Uganda): A network of foreign exchange providers within Africa allowing them to check and trade currencies amongst each other.
Zatiti (Kenya): A website/mobile web builder and e-commerce platform for small merchants in East Africa.
Zished (Ghana & Nigeria): A gifting and loyalty ecommerce platform targeting both local, diaspora Africans and corporate entities starting in Ghana.
We selected the startups after over a month long competitive process where we reviewed over 80 applications. Whilst we received less applications this batch than the last (180), the quality was higher- 22% of the applicants reported to have generated revenue compared to 15% from the last application pool. 72% of startups had a prototype vs 62% in the previous class.
On Saturday, the startups had their 1st accelerator session with 2 mentors from Silicon Valley who shared lessons around building a company from financing to monetization.
Joyce Kim: 
Joyce Kim is co-founder of simplehoney, a mobile commerce startup. Kim was previously CEO of Soompi, A Korean Pop video (funded by SoftBank Ventures Korea and acquired in 2011) and co-host of Revision3's The GigaOm Show. She's a mentor at 500 Startups. Prior to entering the startup world, Joyce was a corporate attorney specializing in M&A, venture capital financing and capital markets.
Jed McCaleb:
Original developer of MtGox (the leading Bitcoin exchange). Previously created eDonkey2000. Founder of OpenCoin and Andreesen- Horowitz backed Ripple.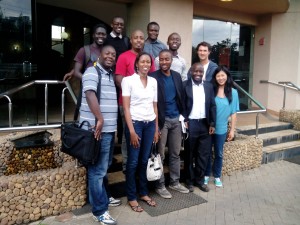 Depending our collaboration with the iHub "stack"
We learnt a lot from our first accelerator class including ensuring we equip the startups with the right resouces and connections for growth and monetization. The current batch of startups will be working out of the mlab and collaborating with the iHub UX design lab and iHub research wings in addition to having regular mentor sessions from experienced international and local technology entrepreneurs.
Afrikoin
All  of the 4 startups are directly related to innovations around commerce in Africa. With the growing interest around payments innovations from mobile money, remittance to bitcoin in Africa we are also announcing the launch of Afrikoin, a payment and money innovation event focused on Africa that will coincide with the accelerator's demo day in mid November.
There are many payment challenges and opportunities with startups in Africa that we are seeing across our portfolio and we'd like to bring together innovators, regulators, payment and ecommerce platforms to a one day session. We welcome partners to collaborate with us on this event, we'll release an event agenda and final date later this month.