What it REALLY takes for an African startup to make it to Silicon Valley…
"Sorry, I just don't believe the story" the United States Immigration Officer mumbled as he stamped 'REJECTED' on Rodgers' and Sam's Business Visa Application. Thankfully after a second round of applications, another $400 into the system, several calls made to US State Departments, and 10 more days of waiting… Rodgers and Sam, Co-Founders of portfolio startup CardPlanet, were finally boarding their first plane ride ever, heading to San Francisco. A month ago CardPlanet was accepted to 500 Startups' Accelerator, and while the hurdles to participation in the Accelerator were many – we at Savannah Fund are happy to announce CardPlanet is finally on the ground in SF and officially part of the current 500 Startups Accelerator Class!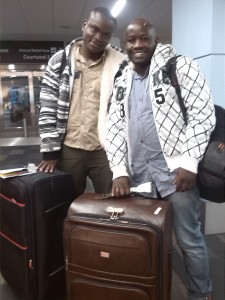 So what does it REALLY take for a African startup to make it to Silicon Valley?
Network your way to an International Accelerator – for starters, you need to get in. While this is probably the hardest step in the process, it's also only the beginning of the process. Luckily for our portfolio, Savannah Fund has strong ties back to several American Accelerator programs and we value the benefit of international exposure and training for our teams. CardPlanet has a strong team, a robust product, and a client pool of international NGOs. We knew that an opportunity to participate in an American based Accelerator would not only raise the caliber of deliverables from the team, but would place them in an international hub with exposure to many US based NGOs with operations in Africa.
Negotiate your Valuation – is it realistic for Africa? International Accelerators ofter use western benchmarks to calculate startup valuations. Variables such as time invested, team background, market growth rates, exit opportunities, political risk, etc. deserve different values in a developing economy verses a developed. Whether or not it's fair, investors often use the 'Africa Factor' variable, depreciating the value of an African startup relative to its international benchmarks. While a high valuation for an equity investment is great – it can also be a risk to your future fundraising round, as you'll need to prove significant growth and appreciation in value to raise on good terms the next time. Its ok to ask for a lower valuation in a current round, to make sure you'll be able to hit reasonable future valuations before the next round.
Be Prepared to Pay  – Accelerators cost money?! 500 Startups charges $25,000 to participate in the Accelerator. That means while you might be offered $100,000 equity investment, you'll only ever see $75.000. Every Accelerator has it's own financing model, just don't be surprised if half of what you 'win' disappears. Ask a startup in Africa to pay $25,000 to participate in a local Accelerator, and the Accelerator will never graduate its first class. But in the USA, paying to participate is quite common.
Be Optimistic and Preplan – Apply for your passport BEFORE you get in. In Kenya, even if you pay for an expedited passport, and are promised a three day turnaround… it will probably be two weeks before you actually see it… and you haven't even started the process for the travel visa yet. I expect other African nations to be similar is speed.
Practice for your Travel Visa Interview – its about personality, not paperwork. CardPlanet walked into their visa interview with an official letter from Savannah Fund, a formal letter of Acceptance to 500 Startups with investment, proof of business incorporation, proof of bank statements,  processed (and expedited) applications and paid fees. The immigration officer glanced at the documents only long enough to see there were words on the page. Instead of counting on the paperwork, be prepared to verbally outline the opportunity, the reason for traveling, and most importantly… the reason for coming BACK to your home country. Practice answering visa interview questions. Make your answers short and clear. Convince them your story is true. Make sure they know you plan to come home.
Wait to Book your Flights – and note, flights aren't cheap! $1700 per person from Nairobi to San Francisco. For many of our portfolio startups, $1700 is higher than their monthly burn rate (remember, it's Africa) for the entire team! It was definitely a shocker for CardPlanet when they had to spend more on two plane tickets than they had spent on running the business for several months. Booking last minute doesn't help to bring the price down, but it's better than paying re-booking fees several times as passports, visas, and other travel arrangements delay your travel. CardPlanet had originally planned to fly out in time for the start of the Accelerator on Oct 12th, but it wasn't until October 31st that they actually had all the documents they needed to fly out.
Understand why you need Health Insurance for the USA – you can't afford NOT to. While it may cost $250 per person for four months of coverage in the USA, getting caught in the American Health System without insurance can cripple you financially. Understand this is not a risk you want to take. Buy insurance before you leave.
Get PrePaid Credit Cards – otherwise you'll be stuck without access to cash. Kenyan Shilling bank cards often don't work abroad. Check with your bank. Instead you'll have to take out a prepaid visa card which works internationally, and deposit cash directly onto the card. Figure out what currencies you can use your prepaid card in, how you can top it up from abroad, and what the fees are. I&M offer a prepaid Visa card up to $10,000 which can transact in USD, Euros or Pounds. When you are about to leave your country for several months to live in a very expensive city, figure out how you're going to finance it all before you go. Remember online banking doesn't really work in most parts of Africa, and you won't be around to top-up in person the traditional way.
Don't Freak out at the Cost of Living – it's normal! I tight budget might be around $1000 per person per month for housing, $750 for food, $150 for transport, $50 for mobile credit, etc. Don't expect to maintain your African cost of living while sitting in Silicon Valley. It's ok to spend more while living in the USA, just make sure when you come back, you still have money to build your business! Plan your finances out before you go. Build a realistic budget. Ask advice on how to keep costs down. Silicon Valley is one of the most expensive regions in the world to live. Be aware of this before you go. And again… make sure your prepaid visa card is loaded!
Incorporate into a US Corporation – otherwise you won't get the investment. It's common for American Investors / Accelerators to only invest in American businesses, so don't be surprised when they require you to re-incorporate. There are several benefits to being incorporated in the USA, just make sure you understand how long it takes to re-incorporate and how much it will cost, as this will have to happen before you see a dime of investment from the Accelerator. Most Accelerators have partnerships with startup friendly law firms. Research who they are and start the process as soon as possible. We know you want that money as soon as possible…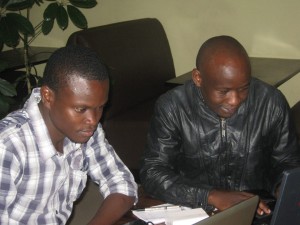 As they had never left Kenya before, we were very happy to hear the pair managed their two connecting layovers, made it through immigration without alarm, and found their way to their new home for the next four months in Mountain View. In fact the only news they felt was important enough to report back was… "This place is crazy organized, the trains are so on time!"
Congratulation CardPlanet! We're excited to watch you learn from and graduate through the 500 Startups Accelerator. Enjoy and make the most of your time there! We're sorry there is no ugali…